Your previous selection: Multi-levels courses
< Back
Découvrez l'Alsace !
Product Code: 2019 SPRING - ALSACE 2019

Age Group
Adults
Type
workshop
Session
2019 - Spring Holiday Session
Level
Multi-levels courses

Schedules
On Tuesday, 01 Oct 2019

From 6:00pm to 8:00pm at NEDLANDS - The AF Perth (Laura Laurence Mace)
Note: Découvrez l'Alsace ! Ouverts à toutes et tous à partir du niveau A2.
Objectives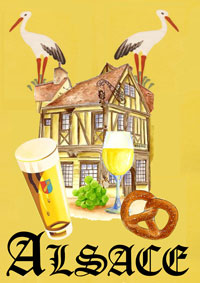 Gewürztraminer anyone?
Riesling?
Those nice sounding nouns (and delicious grapes!) sound more German, don't they?
Come and learn more about this fantastic region of France, and see why Germany and France kepts fighting for it!
(Re)discover this beautiful French region with this workshop presented by Laura! Learn interesting facts while practising your French!
This workshop is open to everyone from A2 level.

$45.00

AUD
Approx $30.29
USD