Your previous selection: Atelier Régional
Only 1 course available for this selection
Découvrez la Bretagne
Product Code: 2020 SPRING - Bretagne 2020

Age Group
Adults
Type
workshop
Session
2020 - Spring session
Level
Atelier Régional

Schedules
On Tuesday, 06 Oct 2020

From 6:00pm to 8:00pm at NEDLANDS - The AF Perth
Note: Découvrez la Bretagne ! Ouverts à toutes et tous à partir du niveau A2.
Objectives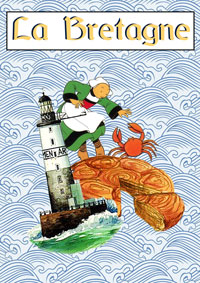 You like crêpes and cider?
You fancy dramatic coastal landscapes?
You enjoy tales from the celtic tradition?
Well, you might really enjoy Brittanny (second region of the 2018 edition of Le Tour de France) !



(Re)discover this beautiful French region with this workshop presented by Laura, who actually comes from this beautiful part of France! Learn interesting facts while practising your French as!
This workshop is open to everyone.
$45.00

AUD
Approx $31.46
USD