Your previous selection: 3-4 year olds: Swans
You can enrol in our Swans classes anytime!​
Only 1 course available for this selection
Swans - Friday 10am
Product Code: 2021 T1 Swans - Fri 10am - ASC 2021

Age Group
Children / Teenagers
Type
Term classes
Session
2021 - Term 1
Level
3-4 year olds: Swans

Schedules
05 Feb 2021 to 26 Mar 2021

Friday 10am 🢒 11am at BULL CREEK - All Saints' College
Note: 8 weeks course - A minimum of students is required to open our classes.
Objectives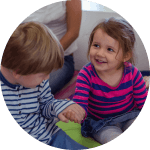 Swans is a playgroup in French for 3 to 4 year old children.
It is not a French course, but a discovery of the French language through stimulating activities including crafts, songs, games, sensory experiences and more.

Each class is organised around a set routine to which the children will quickly accustom.
Our fully qualified and experienced teacher uses the spiral learning approach to keep the children stimulated while allowing them to memorise vocabulary and expressions in the long run.
Sessions are 1.5 hour long and include a healthy snack (nut free) break during which we encourage the children to share their fruit with each other.

Parents will be able to follow the children's progress through the material and resources provided.


Parents are advised to provide their children with some fruit that will be shared with the others as well as a waterbottle.
$180.00

AUD
Approx $137.52
USD