AF French FIlm Festival:
- CANCELLED -
TASTE OF FRANCE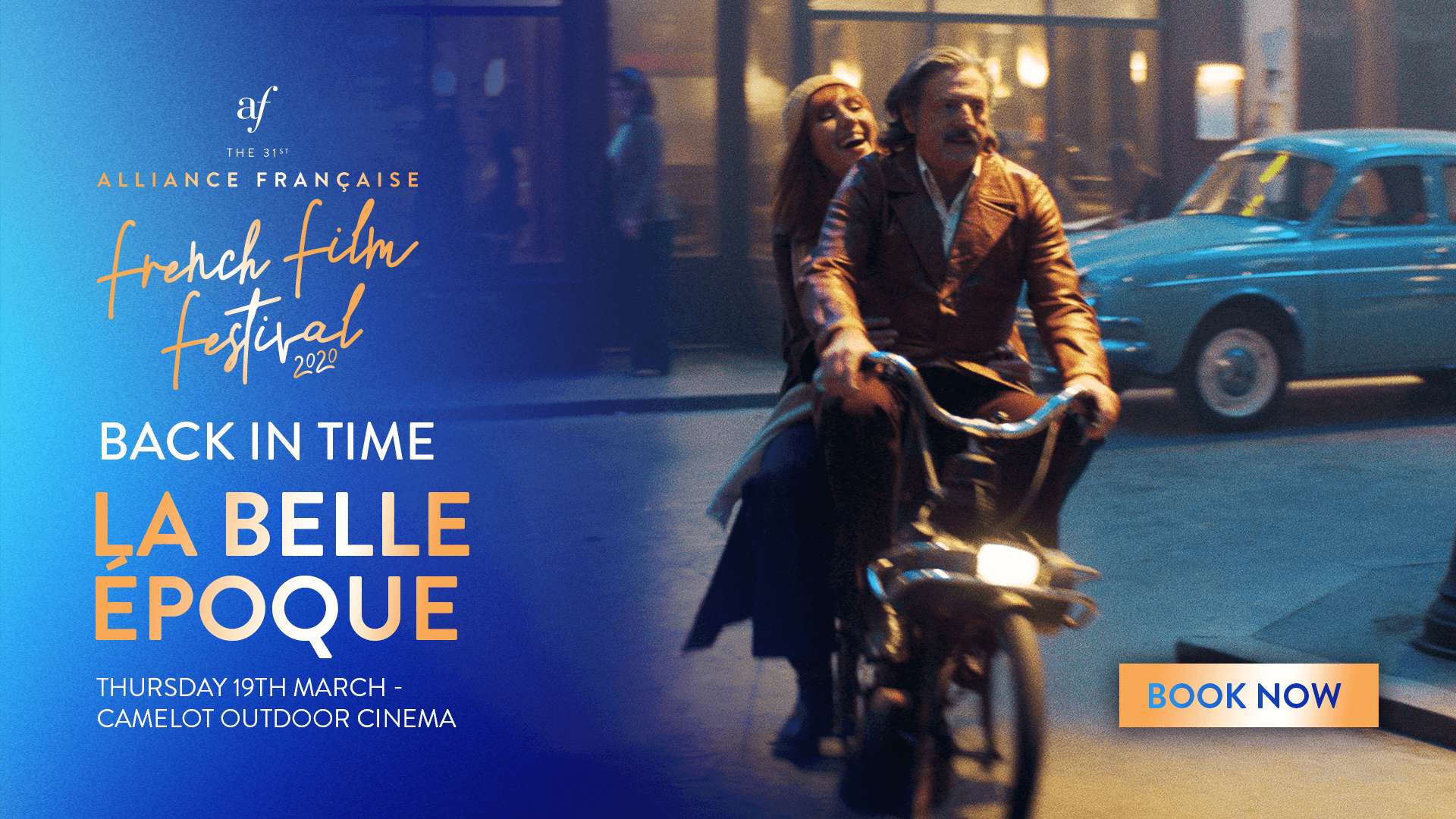 Settle in for laughs, tears and drama as a talented cast set out to answer the question: If you could travel to any moment in your past, when would you go to?
Thursday 19th March

6.30pm - Reception includes a glass of wine and cheese on arrival with live music from Chris Murphy Trio
7.30pm - La Belle Epoque
La belle époque
DIRECTED BY: NICOLAS BEDOS
STARRING: DANIEL AUTEUIL, FANNY ARDANT, GUILLAUME CANET, DORIA TILLIER, PIERRE ARDITI
French with English subtitles
The clichés of French film history are playfully explored in César Award-winning filmmaker Nicolas Bedos' hilarious La Belle Époque, which darts between present day and the wild, wonderful disco era of the 1970s in a whimsical, witty and romantic tale.
This reimagining of the film-within-a-film concept also boasts the mighty combination of Daniel Auteuil and Fanny Ardant who appear alongside the filmmaker's frequent collaborator, Doria Tillier, having co-starred in his 2017 debut, Mr & Mme Adelman.
Victor (Daniel Auteuil, AF FFF19, Rémi, Nobody's Boy), a 70-something tech-phobic cartoonist, is struggling both professionally and personally. His work is evaporating with the growing dominance of the Internet, and his wife, Marianne (Fanny Ardant, AF FFF16, Chic!), loathes him. Things take a turn when Victor meets Antoine (Guillaume Canet, AF FFF19, Sink or Swim; and also starring in In the Name of the Land and directing We'll End Up Together at this year's Festival) whose company offers a unique theatrical service where customers are able to revisit memories and play out fantasies through carefully orchestrated re-enactments. Victor decides to relive the most memorable week of his existence, 40 years earlier, when he met the love of his life.
A French film to equal the gleeful inventiveness of The Truman Show, Bedos reminds us not only of who we once were, but who we have the potential to become. La Belle Époque is at once dazzling and soul-stirring yet, ultimately, a heartwarming allegory.


Partners