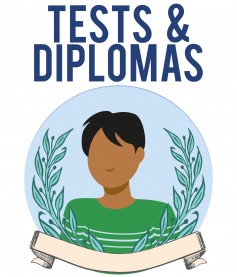 Whether it is for international studies, immigration, work or just for your personal achievement, the Alliance Française de Perth is where you need to come to have your level of French officially recognised. We are the only accredited center for most official French tests and diplomas in WA.
All enquiries and forms are to be sent to exam@afperth.com.au, and will be processed Mondays, Wednesdays and Fridays.

DELF (Diplôme d'Etudes en Langue Française) and DALF (Diplôme Approfondi de Langue Française) are official qualifications awarded by the French Ministry of Education to certify the competency of candidates from outside France in the French language.
For more information and to see the date for the next session, click here.


TCF is the French Ministry of Education's test of French language ability. It is designed for non-native speakers of French who wish to obtain a simple and precise evaluation of their general language skills for professional or personal reasons.
TCF/TCFQ exam information
TEF is a French language Test recognized by CIC (Citizenship and Immigration Canada), the Canadian Federal Government body to vouch for the French proficiency level of prospective migrants.
TEFAQ is the French language Test recognized by MICC (Immigration and cultural communities department), Province of Quebec.
TEF/TEFAQ exam information


Diplôme d'Aptitude à l'Enseignement du Français Langue Etrangère.
DAEFLE exam information