Rencontres. Conversation avec la traductrice littéraire Nadine Gassie
Date: 06 Oct 2023, 5:30pm - 7:00pm (GMT+08:00) Perth

Rencontres.
Conversation avec la traductrice littéraire Nadine Gassie autour de sa version française de Visitants de Randolph Stow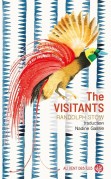 Traductrice professionnelle depuis 1984, Nadine Gassie est l'invitée du Big Sky Readers and Writers Festival de Geraldton (27 sept – 1er oct) pour le lancement de la toute première traduction en français de l'auteur australien Randolph Stow connu pour The Merry-Go-Round in the Sea, Midnite, Tourmaline…
The Visitants est publié Au Vent des Iles

Hélène Jaccomard (UWA) l'interrogera sur son parcours atypique, sur les rencontres qui ont jalonné sa carrière et qui l'ont menée à l'auteur de Visitants. Elle partagera son expérience de traductrice de nombreux auteurs australiens et américains.
Venez découvrir un métier méconnu, à travers la personnalité singulière et attachante de Nadine Gassie.
$10 with a glass of wine
Sorry, you've missed the RSVP deadline for this event.