Fête de la Musique 2019
Date: 23 Jun 2019 8:00pm - 24 Jun 2:00am (GMT-12:00) International Date Line West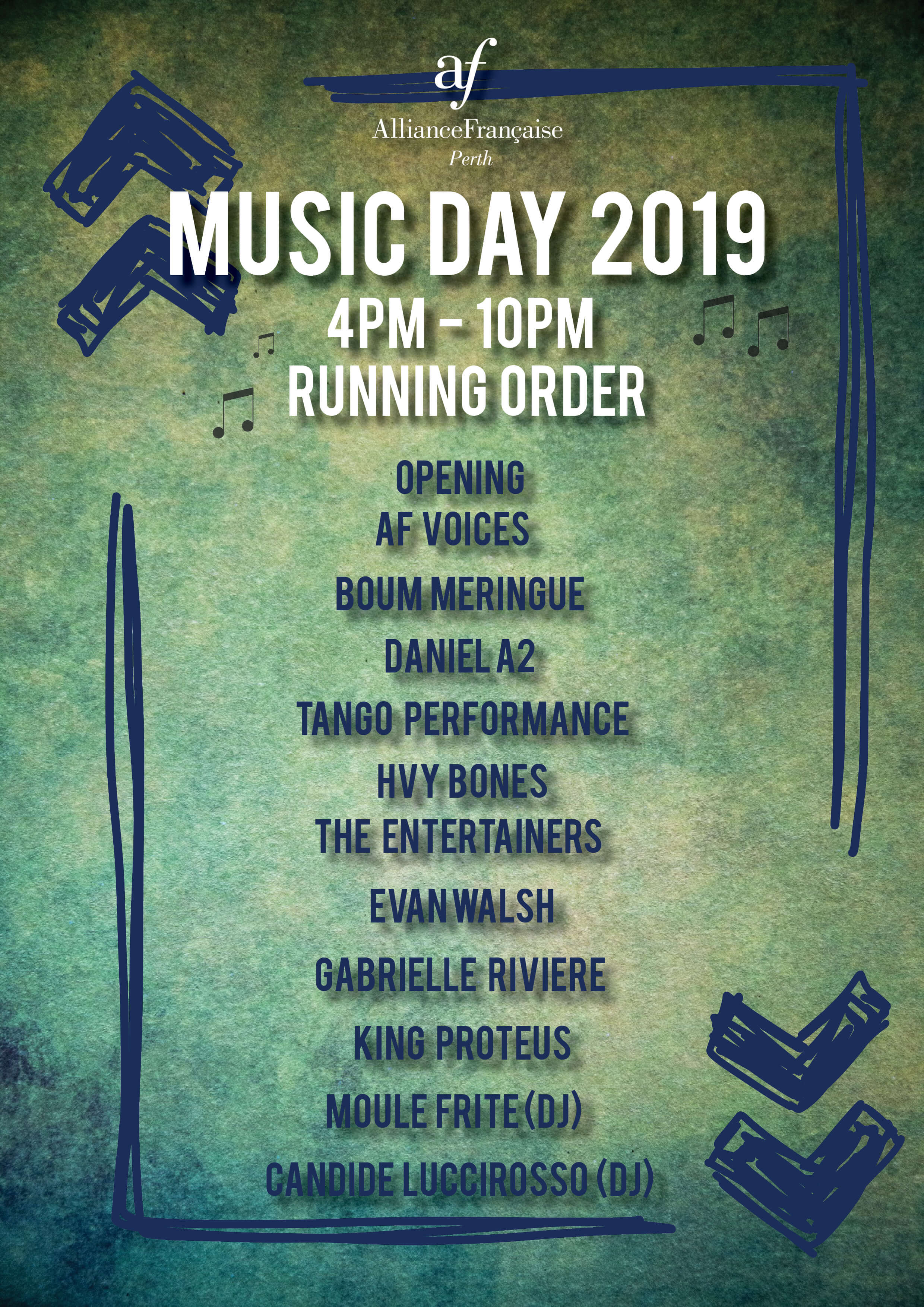 Meet the Musicians!
Boum Meringue
From WA, Boum! Meringue are an energetic four piece group playing an eclectic range of music from old traditional classical, to jazz, gypsy, sci-fi to 80's pop through to the now and happening music. From slow, melodic and moving instrumentals to sing-a-long, dancey and upbeat music. All compositions have a French twist.

Hvy Bones
singer/songwriter
https://hvybones.bandcamp.com/track/nothings-easy
The Entertainers

"The Entertainers" are Perth's newest and most exciting Contemporary Duo comprising: Pianist/Composer/Lyricist/Vocalist: Ric Stern, and Vocalist Extraordinaire: Alexandra Hainsworth. Ric has entertained for Royalty and Dignitaries from all corners of the globe. Alexandra has just begun her Professional Musical Career, as Ric's new protege', and she has won the hearts of Perth Music Lovers with her inimitable and passionate vocal style. 'The Entertainers' have a repertoire which is sure to please with  a myriad of selections from different musical genres.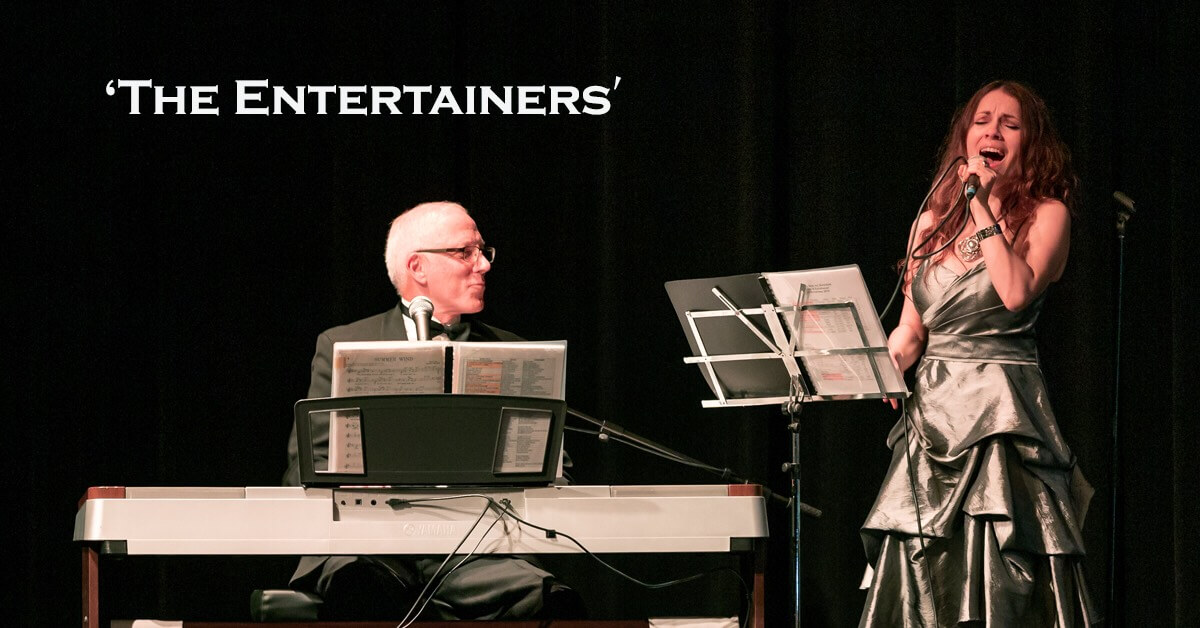 Evan Walsh
https://soundcloud.com/user-413418673


Gabrielle Rivière
https://www.gabrielleriviere.com/

Who would expect a French girl from Reunion Island to belt out blues and jazz numbers in English like she's done it all her life?  Well, the reason is because in fact she has!  And that's just the start of it.  She's equally comfortable singing Latin songs in Spanish and Portuguese, or soprano classics in Italian.  Her vocals have led her to be compared during the one performance to Shakira, Mariah, Beyonce, Whitney and Tina Turner.
Gabrielle has spent many years performing live for appreciative audiences, both as part of a band and solo with her keyboard or backing music.  She grew up performing in New Caledonia, and then in later years throughout the Pacific.  She is a recent arrival to Perth and happy to present her culture and talent whenever she has the opportunity. Gabrielle will be joined for part of her performance by Muriel & Carole of the 'Kafrinettes'.
King Proteus

https://soundcloud.com/king-proteus-170655501
"Who is King Proteus? To answer this question, first, we must ask, Who the fuck is Proteus?
"The Old Man Of The Sea", an ancient Greek god known to be rather moody and cheeky has been said to have had the incredible power of shapeshifting into any form of life he sees before his eyes. His name known to mankind is "Proteus". The Formation of King Proteus began as this deity rose from the sea one day as 4 musician friends were hanging out by the beach. It is said they were humming the tune "Lion" to one another, it was at the moment Proteus heard this incredibly sexy melody, and driving groove, that he could not resist showing himself in order to steal the identities of these musicians and finally complete the musical project he had yearned to complete, for so long. With the power of music running through him, and a human life form that would allow mankind to hear the music, King Proteus was created! Some say he plans to form himself into Kylie Minogue and even Thomas the tank engine, it's not known where he'll strike next, but it's best to be aware and be ready to hear the mind-blowing music that simply does not sound like human-made."
Moule Frite
https://soundcloud.com/leo-pierre-166183604
Fête de la Musique/ Music Day
The Music Day has a long lasting tradition in France. Usually taking place on 21st of June, the beginning of European summertime, the Fête de la Musique allows and urges all kinds of musicians to play their music in the streets. The idea was to democratize music, giving a stage to amateurs, professionals and music lovers in town, promoting local music culture and allowing music and culture lovers a pleasant and convivial day. 50 years after the first Music Day, various cities in about a houndred of countries on each continent in the world joined this format and thousands of local amateur musicians benefited from this idea.
Music Day in Perth
The Alliance Française has been presenting the Music Day in Perth for the last 10 years. We would like to give musicians, such as music students, hobby and amateur musicians and professionals, a chance to play for and to anyone. Respecting the idea of democratization, a mix of different music styles and levels is welcome. The event will be free entry and starting in the afternoon on Sunday 23rd of June.
This year, The Alliance Française is organising the Music Day on Sunday June 23 at Perth Mess Hall @ Old Swan Barracks. Originally in France, on the first day of summer, amateur and professional musicians are encouraged to play music in the streets.
Again this year we want to hold La Fête de la Musique in Perth with 10 amazing groups of amateur musicians who will play live music from 4pm to 10pm.

Come and enjoy the electric mix of different types of music and local musicians, from rock to electro, from young to old! The Old Swan Barracks has just received a renewed interior and exterior look and offers besides the casual bar, a cozy atmosphere and a billiard area inside as well as a space for food trucks with French raclette cheese, crèpes and other international delicacies outside!


Sorry, you've missed the RSVP deadline for this event.